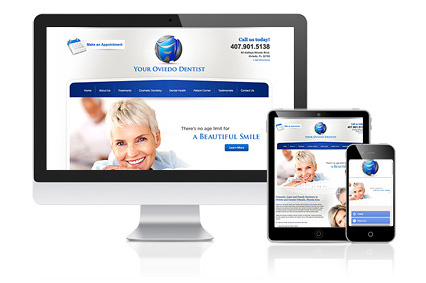 Sometimes it's good to toot your own horn and at Martini Creative, we're proud of our work and don't mind showing off when we can. Our most recent dental practice website for Your Oviedo Dentist (www.youroviedodentist.com) recently won the Award of Distinction for quality and achievement from The Communicator Awards, which is one of the industry's leading recognition programs.
The practice's site incorporates a modern, clean look with it's content management system, which has been developed utilizing WordPress. The Dental Dictionary page features the CM Enhanced Tooltip Glossary plugin that we customized, and highlights terms in the site and features tooltip rollovers. The CMS allows the staff to update the site on-the-fly which includes adding video clips, contest announcements and other content updates. We've integrated their scheduling platform with the site, as well as their testimonials feed.
Is your site tired and outdated? We can help freshen up your look and enhance over-all patient experience with a well-crafted, customized website. Call us today at 419.353.9696 or go to www.moretime2smile.com to email us with your information.